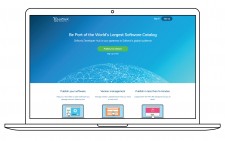 Developers small and large can now upload their titles to the world's largest software catalog.
BARCELONA, Spain, February 1, 2018 (Newswire.com) - Softonic.com, the world's largest software, and app discovery destination, today announced the launch of the Softonic Developer Hub, a service that allows developers large and small the opportunity to add their software titles to Softonic's huge catalog.
The Developer Hub is a free, easy-to-use service that lets developers add their titles to the Softonic catalog in no time, and also allows developers who already have a listing on Softonic.com to claim their titles and manage version updates each time they update their software.
"As the world's largest software catalog with an unequaled reach of 100 million unique users per month, Softonic is proud to be able to bring developers the ability to become part of our community," said Kristina Müller, Head of Compliance and Catalog for Softonic.com. "Developers are core to our mission of connecting people with technology and we know that providing them with an easy way to share their software with our global audience is beneficial to both our users and our developer community."
The Softonic.com catalog is currently home to hundreds of thousands of titles, contributed by some 60,000 developers worldwide. To facilitate easy use of the tool for developers, the Softonic Developer Hub works with the easy PAD® file standard, allowing for a smooth and simple way to upload and manage software.
The Softonic Developer Hub is available free at https://sdh.softonic.com.
About Softonic  
Softonic publishes Softonic.com, the leading global software, and app discovery destination, offering the most complete selection of software and apps across hundreds of categories. Softonic is the European company with one of the largest online audiences and currently holds 40th position worldwide with more than 100 million unique monthly users who generate more than four million daily downloads on Softonic.com.
Media Contact:
Jennifer Woodard
Director, Global Communications
Source: Softonic
Share: